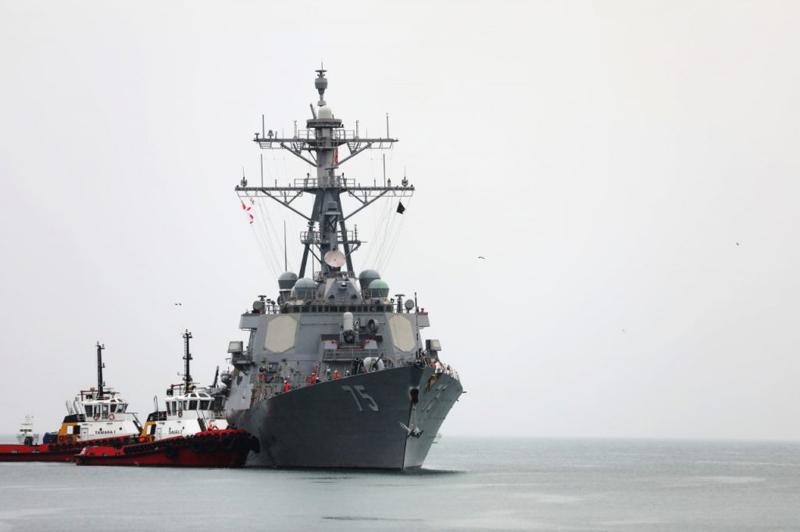 USS Donald Cook enters Batumi port
05-02-2021 16:48:00 Defense
The US military ship USS Donald Cook – DDG-75 entered Batumi port in the Georgian Adjara region on February 5.
Representatives of the Georgian Border Police Coast Guard Department of the Ministry of Internal Affairs (MIA) welcomed the ship.
According to MIA, the visit aims at intensified cooperation in the maritime sphere between Georgia and the US. The Ministry claimed that the visit would be carried out in compliance with Covid-19 regulations and that all meetings would be held in video conference format remotely.
The Arleigh Burke-class ship of the US 6th Fleet is equipped with four tactical missile launchers, guns, cannons, and torpedo launchers and contributes to the NAO-led missions and the Black Sea security.
It was upgraded in 2012 to be compatible with the Aegis Ballistic Missile Defense System, the US program against short to intermediate-range ballistic missiles. It also features a landing pad accommodating an SH-60 Sea Hawk helicopter.
Commissioned in 1998 and "homeported" in Rota, Spain, Donald Cook last visited the Georgian port in January 2019 as a "show of support for regional security and stability."
The US Embassy in Georgia said it is pleased to welcome USS Donald Cook back to Georgia.
"This visit reinforces the strong defense and security relationship between the United States and Georgia while demonstrating the US Navy readiness despite challenges posed by COVID-19," the Embassy said in its statement on Facebook.
The US military ship USS Donald Cook will leave Georgia's Black Sea port city of Batumi on February 6.