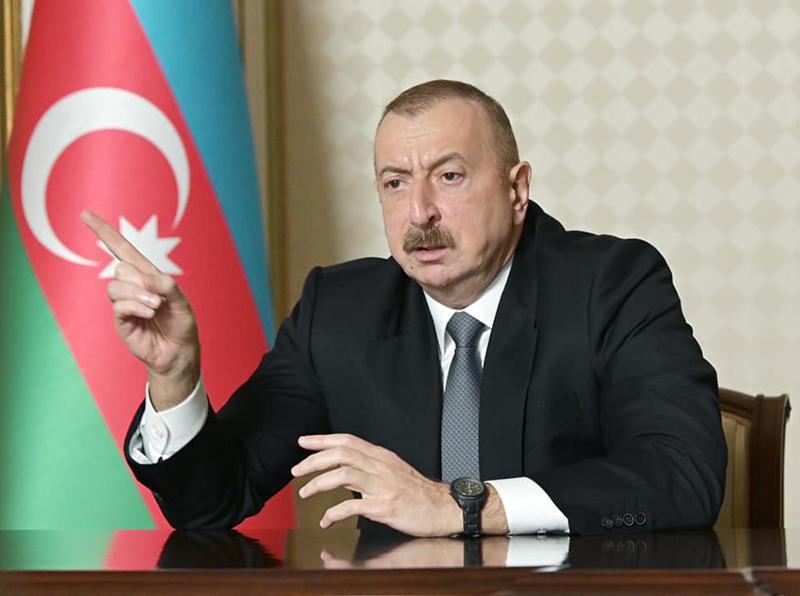 Ilham Aliyev – our main objective is restoration of territorial integrity of Azerbaijan
08-10-2020 10:22:46 Caucasus
The President of Azerbaijan, Ilham Aliyev said on October 8 that his main objective is restoration of territorial integrity of the country.
"Ceasefire cannot be achieved unilaterally. It must be a bilateral decision. And also it must be implemented on the ground. As you know, Armenia attacked us on the 27th September, attacking our military positions and damaging our infrastructure, attacking civilians. So far, we have almost 30 civilians killed as a result of Armenian attack, including their ballistic missiles and cluster bombs. So our counter-attack was successful. We've managed to liberate part of the occupied territories and our main objective is [the] restoration of territorial integrity of Azerbaijan. Armenia must give us a timetable for [the] withdrawal of their troops from the occupied territories. And this timetable must be approved by the Minsk Group co-chairs, the countries which are mediators, and after that, I think the effort must be imposed on achieving the cease-fire," - Aliyev said in an interview with Euronews.
The Prime Minister of Armenia, Nikol Pashinyan also gave an interview with Euronews and stated "the international community should recognise the independence of Karabakh."
The heavy fighting between Azerbaijan and Armenia over Nagorno-Karabakh keeps escalating. The historic dispute flared up again recently. Both sides contest who is responsible this time around. Both sides have lost civilians and soldiers in the fighting.
Last year both countries agreed to take "concrete measures to prepare the populations for peace." Yet in the last fortnight – we're now reporting on the longest period violence in the region for 30 years. And this time, the conflict has now actively drawn in other countries, increasing the danger of a regional conflict.